Golf in Scotland, England and Ireland has long been synonymous with "Links" golf, and to be fair there is nowhere in the world with Links courses like there are here. So for those of you making the long pilgrimage to Great Britain, its understandable that you want a golfing experience you can't find at home. It's very clear that our friends from across the pond crave a dosage of our historic Links courses such as St Andrews, Carnoustie and Turnberry on their golf vacations.
The purpose of this article is to enlighten you on Heathland golf and Great Britain's fine collection of inland golf courses which are steeped in history, unique in nature and arguably more beautiful than those Links courses that you crave.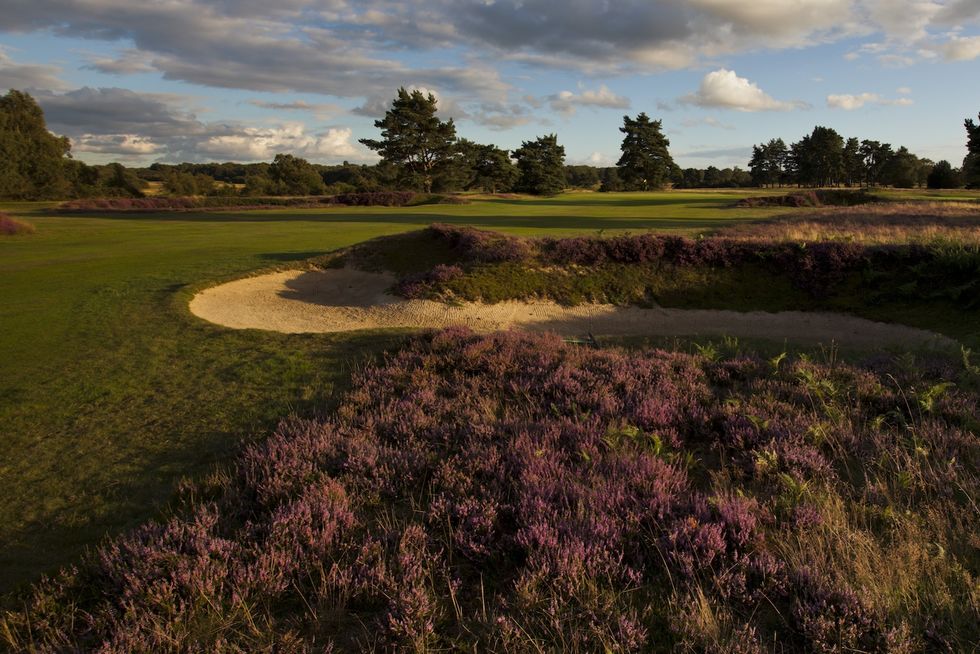 The crème de la crème of the British inland courses are those of the Heathland variety, and if you like Links courses, then you'll love Heathland courses. Much like our Links courses, you'll struggle to find anything like a British Heathland course anywhere in the world.
To help clarify the differences and similarities between Links courses and Heathland courses, lets explore what these words actually describe.
The words "Heathland" and "Links(land)" simply describe the landscape on which a golf course is built. "The Links" isn't a term used exclusively to describe a place where golf is played.
Links land is "typically characterised by dunes, an undulating surface, and a sandy soil unsuitable for arable farming but which readily supports various indigenous browntop bent and red fescue grasses"
On the other hand a "Heath" is "an open landscape dominated by low-growing plants, mainly species of heather and gorse as well as bracken, heathland grasses, herbs and mosses which is interspersed with areas of bare ground and scattered trees".
Heathland courses share a lot of similarities with Links courses, which essentially stem back to their agronomy.
Similarities (between Heathland and Links)
Sandy soil
Having sandy soil allows water to drain easily, leading to firm and bouncy fairways on both styles of course.
Low nutrient soil
During hot summers this type of soil cannot sustain much growth, causing the fairways to turn golden brown, adding even more to its bounciness. Fun fact– It's no coincidence that our nations oldest and finest golf courses are built on courses with similar soil types. Neither Links soil nor Heathland soil is suitable for arable farming; so when men started whacking little balls around in these areas there were no farmers to object against it. The land however was useful in the summer months for their animals to graze on. This in turn benefitted the golfers because sheep made very good green keepers in the days before mechanical grass cutters, helping keep the fairways short.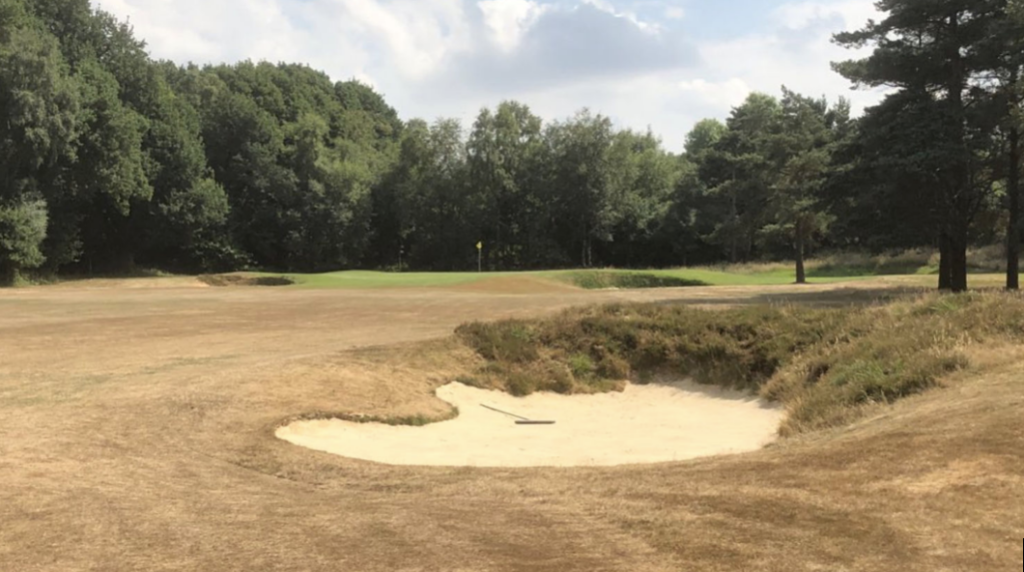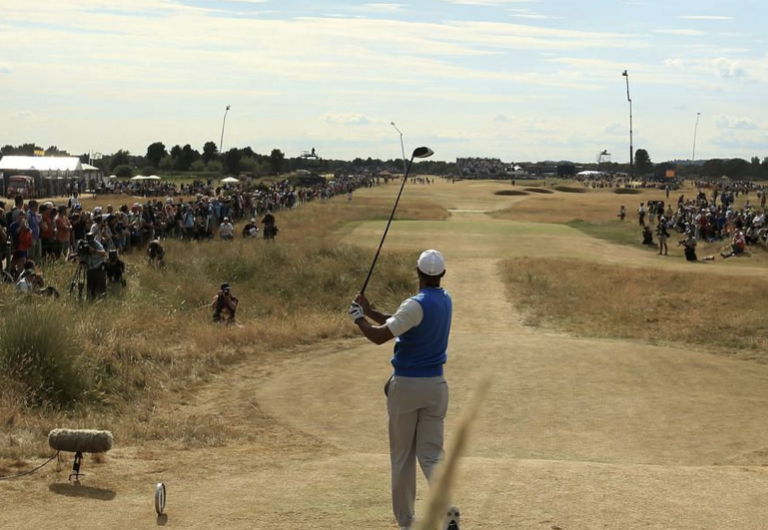 Topography
Although you do get relatively flat Heathland courses just as you do Links courses, both typically have fairly undulating ground, which makes for more exciting layouts.  Drastic natural topography can give the illusion that each hole exists in isolation. An exemplary example of this is at Hollinwell, where a number of the greens are nestled into clefts of a large ridge that runs along the back end of the course, each hole seeming like its own amphitheater. Pictured is the Par 3 13th, a dropping shot of 240 yards from the top of the ridge. You will also find yourself playing holes which cut through valleys lined with yellow gorse bushes, heather or pine trees. As I'm writing this the front 9 of Hindhead G.C. also springs to mind, as well as The Berkshire. Similarly, on Links courses such as Trump International and Royal County Down you'll find towering sand dunes lining the fairways and lots of humps and swales around the greens, requiring imaginative approach and recovery shots to conquer.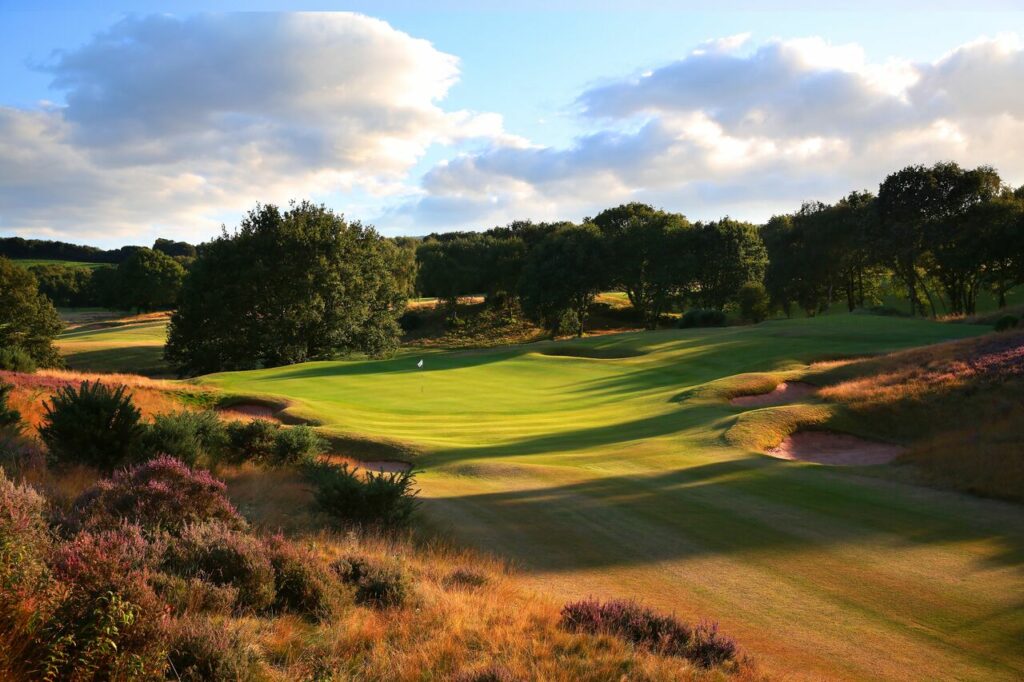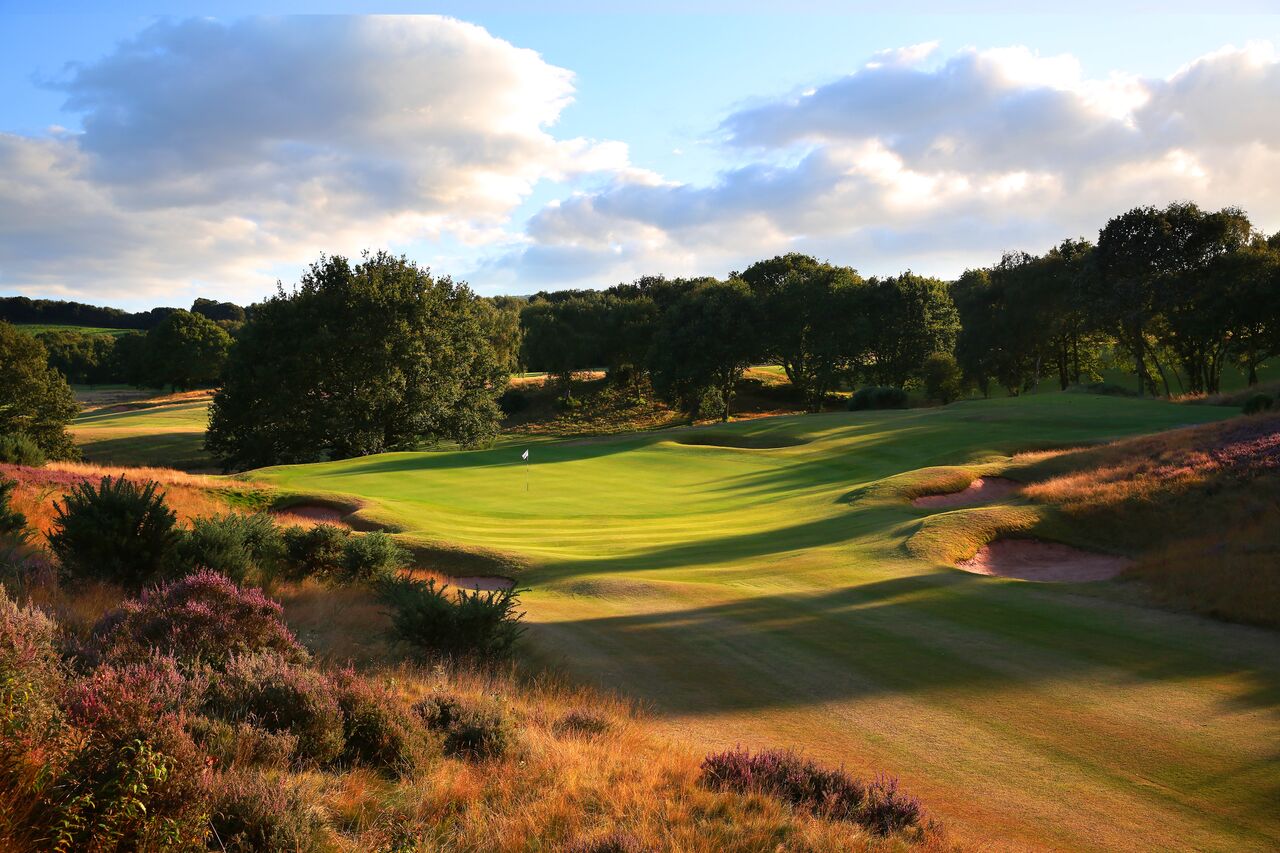 Bunkers
As golf became more popular towards the end of the 1800's, designers were forced to search for suitable golfing terrain in inland locations. Course designers were looking for conditions that would replicate the coastal locations of St Andrews, Musselburgh and North Berwick. Although Heathland locations shared similar soil and hence similar ground conditions, they lacked some of the Linksland features. Hence, course designers at the time were not afraid to give bunkers on their Heathland designs a "classic" Linksy feel.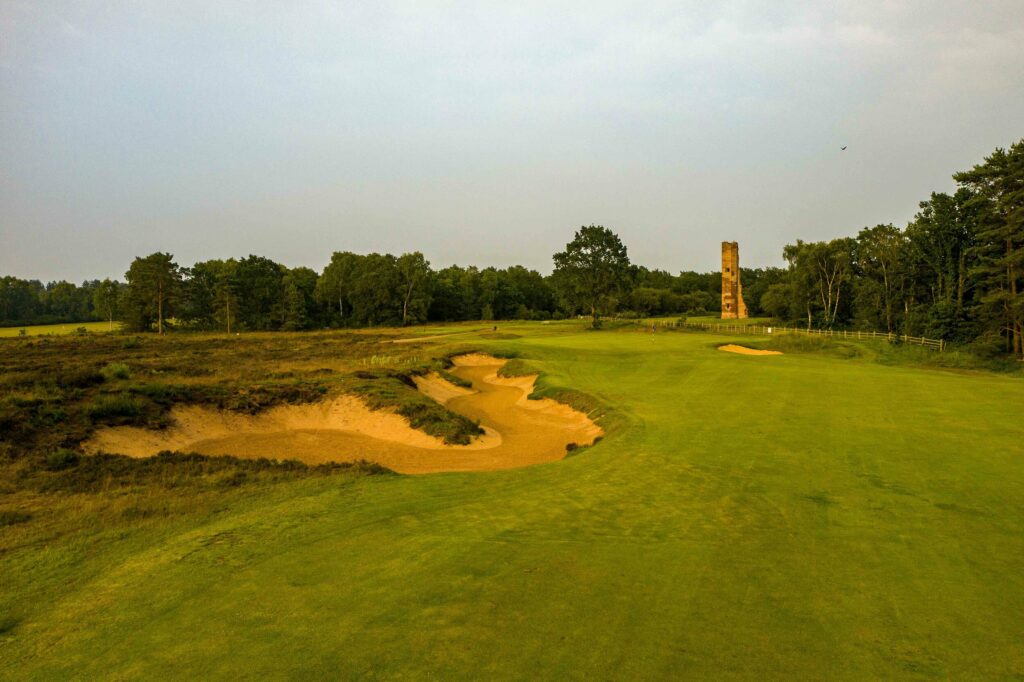 Then of course, Heathland and Links courses also have their differences.
Differences (Between heathland and links)
Weather conditions, mainly wind.
Because Heathland courses are located inland rather than by the sea they aren't as exposed to the sea winds. Trees also provide reasonable shelter from wind you may encounter. This creates a much quieter atmosphere, and although you cant beat the freshness of the sea air, inland golf has a much more peaceful ambiance; you don't feel as beaten up as you do after a windy day on the links. That being said, don't let me draw you into a false sense of security because the weather can be pretty grizzly wherever you play golf in Britain, and at any time of year!
Colour
The variety of colours you see on Heathland courses is phenomenal. Heather, Gorse and a variety of wild flowers and trees make these courses aesthetically pleasing to play, especially in late summer.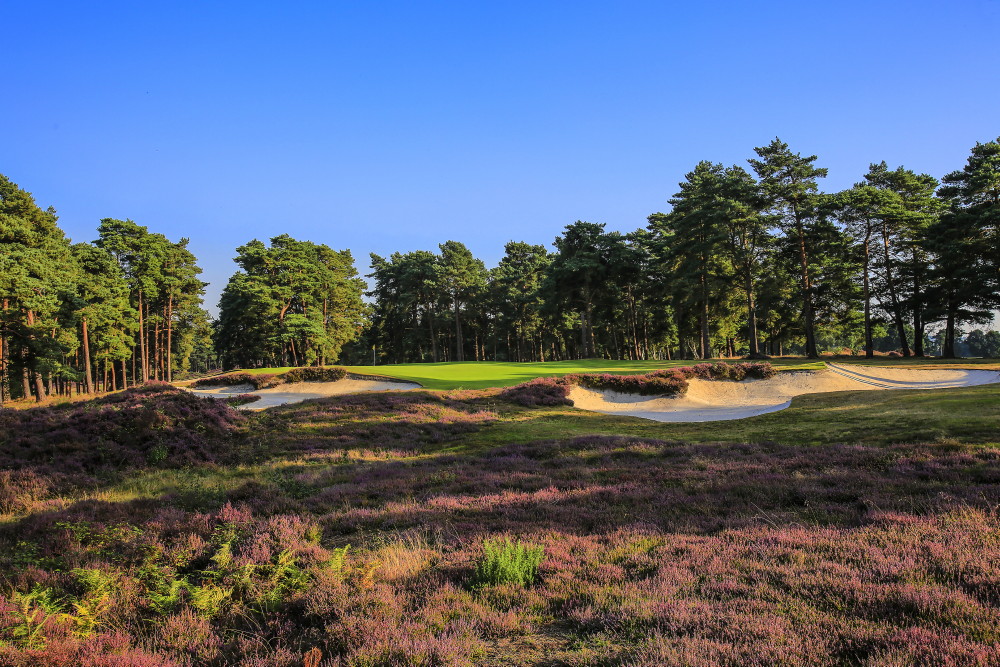 Heather
Usually its the heather that visually defines a Heathland course; its purple colour contrasts with the green fairways, providing spectacular framing for the holes and haunting golfers who know how penal it can be! Heather is the generic name for the beautiful purple heath, it comes in a few different varieties but whats true of them all is its tangly as hell. A tip for those who aren't experienced playing out the heather, take your medicine. This stuff is penal and your game plan should be to avoid the heather at all costs! Links courses sometimes have splashes of heather on them, but is a lot less prevalent than on Heathland courses.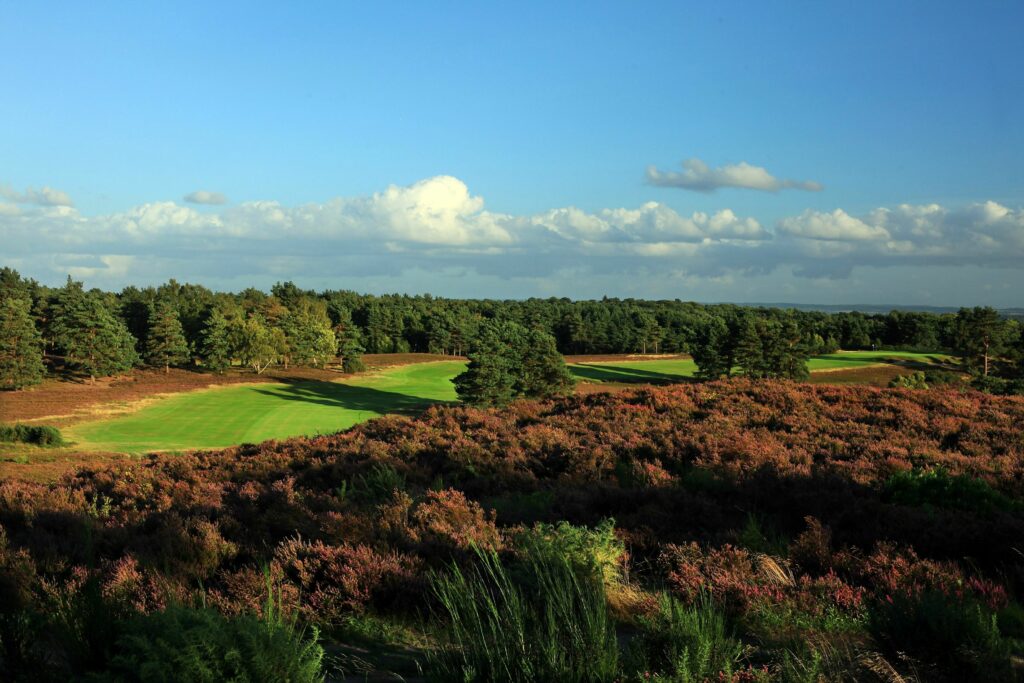 There aren't many finer Heathland courses than the New course at Sunningdale. On the 6th hole (pictured above) you drive downhill onto a green runway cut out of a sea of heather, its one of the most beautiful holes you will ever play.
For me, the cherry on the cake with Heathland golf courses is the variety of wildlife you will come across during your round. Heaths support a rich assemblage of animal species including all six of Britain's native species of reptiles, countless bird species and larger mammals such as rabbits, hares and even deer in areas of heath where more trees have grown.
In summary, Heathland golf is enchanting. It is a pure test of golf. The quick, undulating ground allows your imagination to run wild and play a vast variety of golf shots. This combined with vibrant shrubbery and trees all within a peaceful atmosphere, its really a golfers paradise. A hotbed for this style of course is in and around Surrey (Southern England) where most of the golf courses are nothing less than just that, paradise. In this small area you will find no less than 5 of the worlds top 100 courses which can all be reached within 60 minutes of a single base for your trip. We've created a sample itinerary for a golf trip to England which includes all of these courses. 
After reading this I hope you're now itching to play some Heathland golf courses. At Halcyon Golf Travel we can custom build you an itinerary to explore Britains finest Heathland and Links courses. Please don't hesitate to contact us to discuss your next golf trip to Great Britain or Ireland, a company director will be happy to talk you through your options and help you on your way to golf vacation of a lifetime.
One last fun fact before you leave- You might have heard of the famous golf course architect Dr Alasdair Mckenzie, he designed Augusta National if you've heard of it? The first course he ever designed was a Heathland course, Alwoodley Golf Club in England. Mckenzie took inspiration from Alwoodley when designing Augusta, and used the 10th Hole as a model for the 13th Hole at Augusta National. To see for yourself, why not look at our Masters Ticket Packages for 2024 & 2025.
Written by Jack Sallis. Founder and Director of Experiences. Halcyon Golf Travel.